Ah! The Wedding Season, that special time of year once again. The weather is getting warmer, the flowers are blooming and your stilettos are back out of retirement.
After years of vintage wedding ideas and rustic wedding decors, couples are looking for a different wedding theme for summers in 2017 – venue glammed up with candles, fairy lights and lots of gorgeous floral arrangements. If you're gearing up for a big fat summer wedding, make sure your wedding theme and decor does justice to what you spend on it. Whether you love the idea of an ethnic, modern or minimal decor theme wedding, we have it all to make your vision a reality!
If you're planning a wedding in 2017, make sure you check these pictures from our latest work:
Ring Ceremony- Highlighting the couple's love with a Simple & Elegant Theme!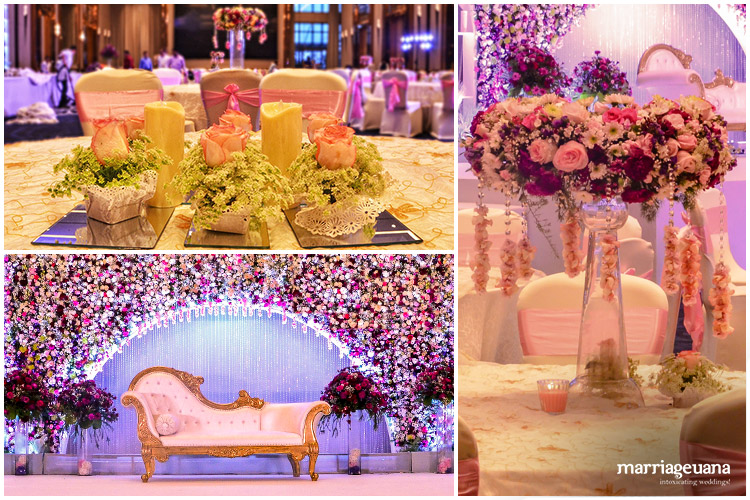 Rose and Candle table tops, create a cosy comfort for your guests. For this theme, we chose a perfect summer palette with pretty pinks and peaches. Gold and whites were used to modernize the look and delicate roses to juxtapose with a vintage feel. This wedding theme for spring is very versatile and can be used across any wedding functions but we particularly like it for a ring ceremony.
Bachelor & Bachelorette Party- To celebrate your freedom together before you get hitched!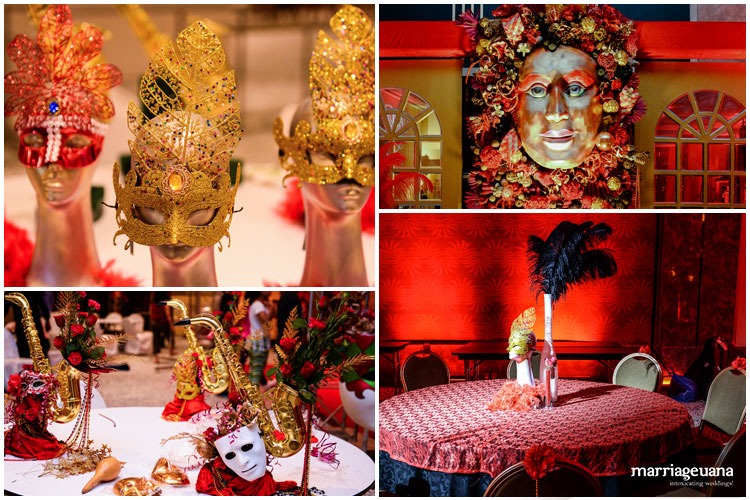 Red and Black with an abundance of Gold hues makes the perfect colour theme to bring a dramatic feel to a bachelor/bachelorette Party. Soft lighting, red & black feather table tops and masks were used to surprise guests with an innovative decor creating a mischievous and fun evening!
Pool Party: Revive Childhood memories with your Friends and Family!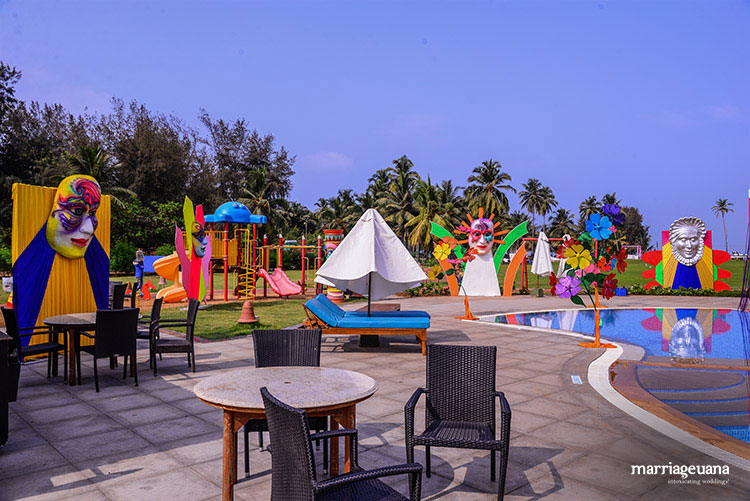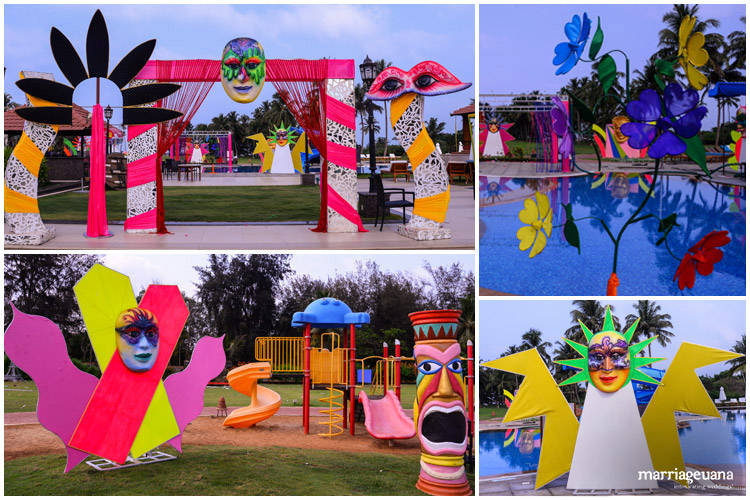 If you're planning a destination wedding, a pool party is a great option to reconnect with relatives and have a reunion full of fun and splash. This concept will help you beat the heat by taking away all the tiredness of your travel and will give you extra time with your guests for a casual get together.
With summer in full swing, our pool party theme with vibrant colours and playful environment makes the wedding stress wash away. A bold arrangement of colours with pinks, yellows, blues and fluorescent hues is just the pop you're looking for on a hot summer day!
Mehendi- Pre-Wedding Ceremony with a fusion of Traditional & Fun/Pop Decor!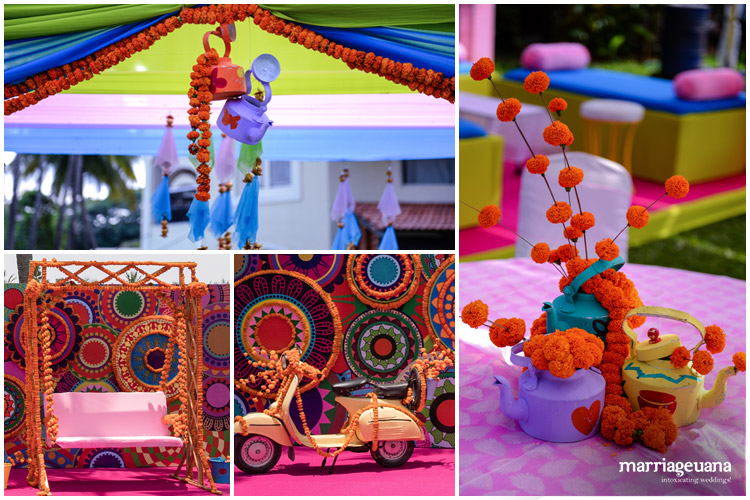 Quirky elements such as Scooter photo booth, Kettle table tops, Bollywood props, hanging tassels and colourful buckets add a fun element to an event. Interactive Food Stations decorated with Marigolds will give you a culinary experience to remember. Teal blue, Aqua green, and lavender, the cool hues of these colours gives a youthful touch to the venue making it a perfect cotton candy celebration for hot summer days!
Sangeet- A new start on life with cool vibes!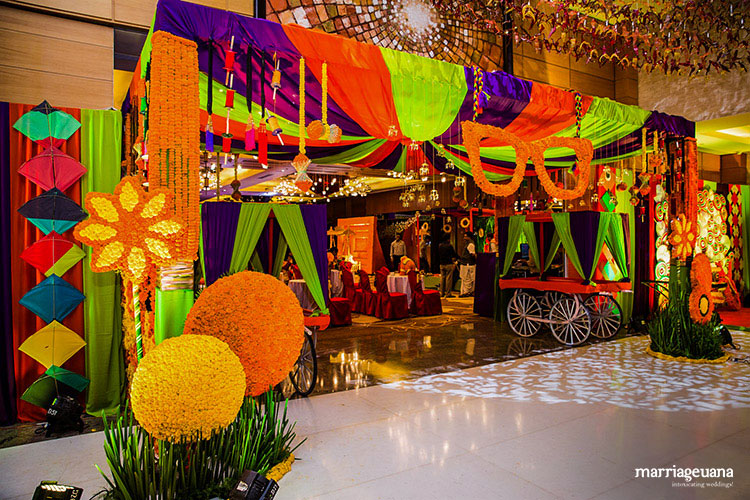 What better flower decor than marigolds that symbolises wealth, celebration and fun. With innovative table tops, marigold cycle photo booth, kites, and everything bright you have an ideal decor for an indoor Sangeet evening.
Sufi Night- Enjoy Soulful Sufiana Sangeet under a Starry Night!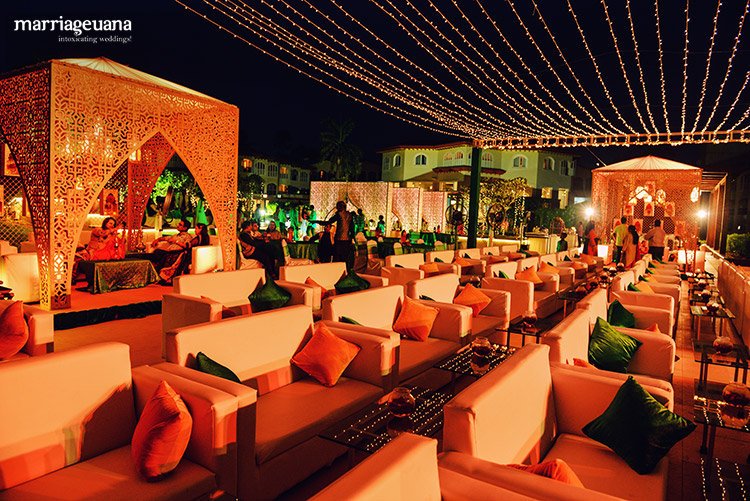 A mesmerising musical night adorned with Arabian decor featuring Mughal arches, exotic florals, Surahis, Hookas, Treasure Chests, and lots of other sufiana elements. Table decor was adorned with Moroccan lamps and Hollow jharokas with lights as part of canopies. We ensured that the seating also complimented the Sufi theme; throw pillows, bolsters and rich decor spreads, we made everything grand and thematic. To top it off, an exceptional entertainment of twirling dervishes was also arranged.
Wedding- Red & White wedding theme to embrace the Traditions!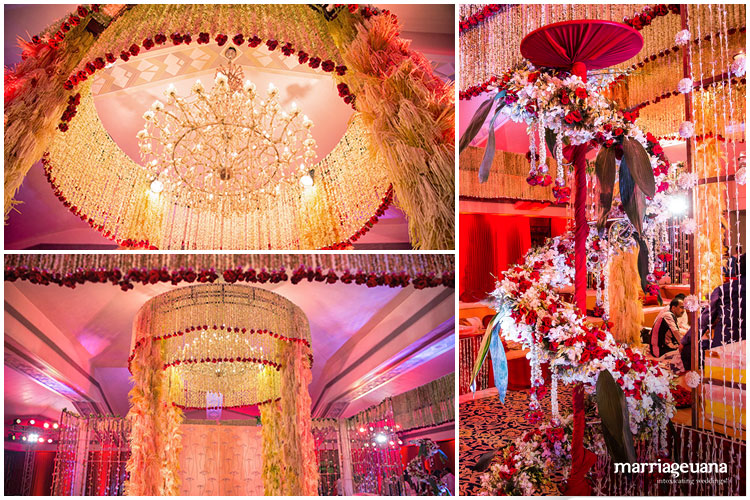 We made the Mandap a focal point of the wedding by using a grand Chandelier with Red & White flower decor. Red is associated with love & passion and symbolizes prosperity & fertility and white symbolizes peace, truth and purity. Traditional weddings are all about embracing one's culture, family and traditions. For those looking for an ethnic Indian wedding, this is an ideal one.
Reception- A Pink & Purple Theme with an eye for details!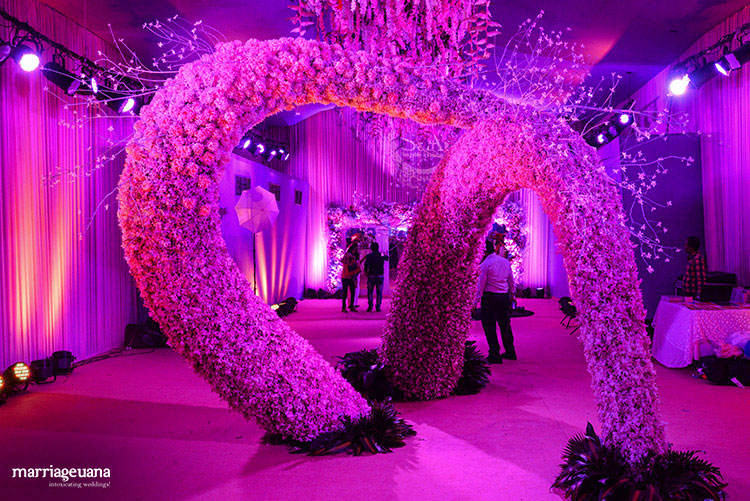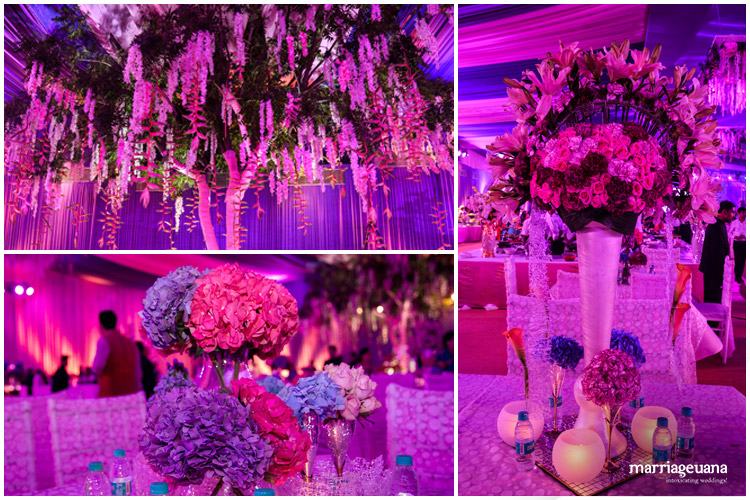 Give a modern look to your reception and surprise your guests with a grand flower arch at the entrance. This theme is all about glamour; long diner tables, elaborate entrances, textured linens and amazing hospitality. The key to pull off this theme is making the lighting strong and bright for decors to stand out loud!
Has this got you totally excited about your wedding planning? Contact us now!