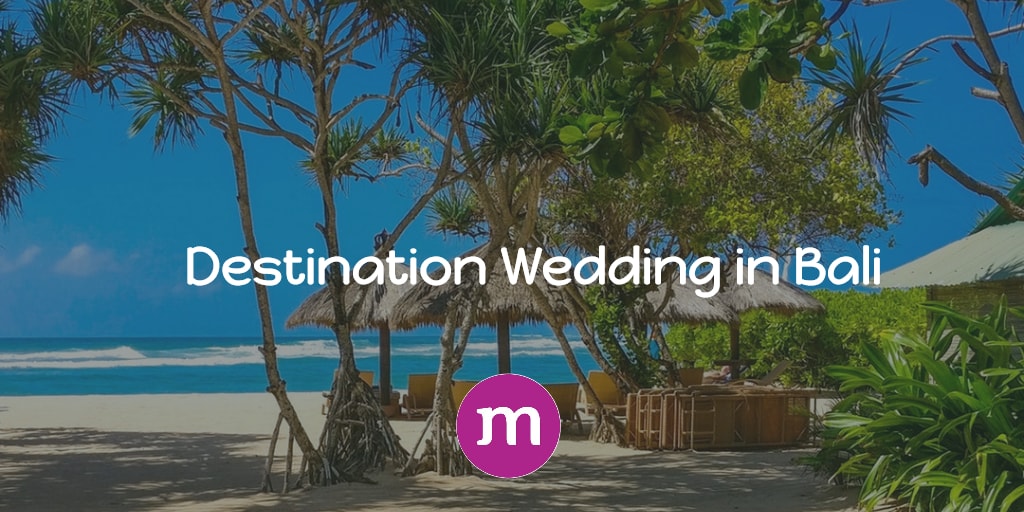 In the travel industry, destination weddings are becoming a rising trend. And, out of all the destinations, Bali – also known as the Island of Gods – is one of the most considerable destinations within the Asia region.
Earlier, this tropical island was famous enough among couples for an exhilarating honeymoon trip. However, over the past few years, it has amassed enough attention to become one of the dream wedding spots.
Undoubtedly, Bali is a stunning place and even boasts a gamut of cultural and scenic venues that are ideal for weddings. If you are still in doubt, here are top 7 reasons that will tell you why destination wedding in Bali is a great choice.
Something for Everyone:
Whether you are a beach person or like nature more than anything else, Bali has something for every requirement. Filled with a myriad of amazing venues and places, this island knows how to make a wedding perfect and memorable.
You can take vows with your beloved at a seaside or get at the top of a cliff and tie the knot with waves crashing at a distance. You can even get more adventurous and get married on a rice terrace, in between the rustic rice paddies.
Not just that, but there are some low-key restaurants and grandeur palaces as well in Bali. Hence, you can choose the one as per your preference and style.
Perfect for a Budgeted Wedding:
Considering how Bali caters to a variety of requirements and necessities, it even takes care of your budget. Thus, if you don't want to spend lavishly and still desire to make your D-day special, Bali knows how to make that perfect balance for you.
As far as accommodation is concerned, right from five-star hotels to smaller yet comfortable lounges, you will find almost everything on this island. There are even affordable Airbnb rooms and houses that you can rent for your guests.
If you want to provide luxury to your guests, you can even book hotels with a spa for them. Basically, you can save a lot and spend extravagantly according to your budget.
Fun Places for Pre-Wedding Parties:
Not just for the wedding, there is probably no substantial reason for not starting your pre-celebration on this island. The reputation of this region as a tourist mecca simply defines that there are several ideas to make your bachelorette or bachelor party an extremely hit one.
If you wish to do something adventurous before the tying the knot and taking vows, Bali would be a perfect place for you.
Incredible Sources & Vendors:
One of the most taxing and difficult tasks of organizing a wedding is, well, organizing it. The entire planning process is quite challenging and requires everything to be nothing less than perfect. After all, you aren't going to compromise with anything on your special day, right?
So, as far as manual help is concerned, Bali wouldn't let you down in this aspect. The tourism and the wedding business on this island are increasing rapidly, and that's the reason why you'll get every possible help here.
Right from people to help you out with food to the decorators, everything is easy to find and arrange.
Marriage Laws Are Not Strict:
The Indonesian laws make it quite straightforward for foreigners to get married in Bali. Neither you would have to provide a pile of documents, nor you would have to prove anything to different authorities. The procedure here is nothing but simple.
The bride and the groom will have to provide religion proof. However, there would be some limitations here as only five religions are approved, such as Buddhism, Islam, Hinduism, Protestant-Christian, and Catholic-Christian.
Once you have submitted this proof, you will then have to show some legal documents for the purpose of identification. And lastly, you would have to pay the administration fee.
It Can Be Doubled as A Honeymoon:
The wedding organization is indeed a tiring process. And, by the time you are done with it, you end up exhausting yourself terribly. While honeymoon comes as a holiday afterward, it again can be strenuous, as it includes packing, making preparations, flying down to some other destination, and then enjoying.
Since Bali has always been a preferred destination for a honeymoon, it can take away your worries of traveling after the marriage. Once you are married in Bali, you can even start your honeymoon the day after. Of course, you can move to another hotel or somewhere far from your family and friends for some quality time.
Photoshoot at A Perfect Place:
Your wedding pictures are going to be cherished not just by your children but the generation to come as well. If you don't want to go so far, don't forget the current age is of social media. And, to gain wow reacts along with a lot of hearts, your pictures have to be jaw-dropping.
And, unbelievably, Bali offers a lot of such destinations and views that you can capture in your camera and intrigue everyone in your friend list.
Conclusion:
Bali is one such destination that has fascinated everyone once in the lifetime. Whether you have visited this place or not, you must be in love with its scenic beauty, right? So, consider these reasons and organize your wedding on this island. Bet you won't regret having the time of your life here.