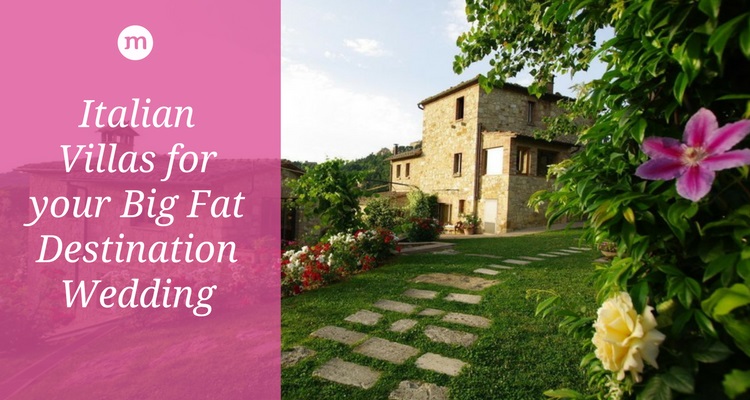 Imagine your big day in a magnificent villa in Italy with beautiful surroundings, impressing and enchanting your family and friends with a day as relaxed or as opulent as you wish. With backdrops of hills, dramatic landscapes and scenic lakes, a destination wedding in Italy is all about the luxurious stay, fantastic food, dated wine and amazing hospitality.
We have planned various Indian weddings abroad and worked at luxurious wedding venues in Italy, here're our list of top 10 villas to choose from if you're planning to get married in Italy!
Castello Sansone: A romantic wedding with a backdrop of the charming hills of Siena!
If you're planning a romantic wedding, Castello Sansone offers an ideal backdrop with the charming hills of Siena. This villa has lush green gardens, spa baths, a restaurant with a terrace view, and sheltered courtyard areas with a capacity of up to 120 guests. With mouth watering cuisine and super Tuscan wines, we make sure that your Food & Beverage menu contains everything that the country has to offer.

Villa Santini: 17th Century Stone Villa with a wild forest landscape!
Villa Santini is an ideal place for wedding celebrations. Whether you want an Indoor wedding or a courtyard celebrations, there are a lot of internal and external spaces to choose from. We provide full wedding planning services that include hiring photographer, local musician, decor, hospitality and every other aspect of wedding.


Borgo San Giorgio: An intimate atmosphere perfect for outdoor lawn weddings!
Borgo San Giorgio has a stunning exhibition area in the gardens that makes for an unforgettable traditional wedding ceremony, lawns and grounds for aperitifs, and a huge covered terrace area for mouth-watering meals and endless dancing. The majestic views and magical essence of Tuscany and a relaxing pool makes this the perfect destination wedding venue in Italy.


Villa Rombi: Beautiful Tuscan Property with a breathtaking pool side view!
A stunning farmhouse with a stylish interior decor offers breathtaking views of the countryside. This villa has been featured in many magazines. If you have a guest count of about 150 people then you must consider this in your venue list for a warm and cozy affair.

Villa Colombaio: Royal, Beautiful and Intimate - all under one roof!
Villa Colombaio offers a complete range of options and possibilities for an Indian wedding event. This villa is for those who want a private and isolated wedding only with their family members. They have 1 main villa and 4 farmhouses that can accommodate a total of 34 guests. The interiors have a royal regal look, while the outdoors makes you feel like you've landed in a fairy-tale!

Borgo Lavandula: Hill top Villa with a spectacular 360 degree view of the rolling countryside!
This historic "borgo" dates back to 1433 and is situated on the hill top. The Hamlet apartments are furnished with antique furniture and all en-suite facilities. Wedding ceremonies can be held in open grounds as well as in Hamlet's Chapel. The view from up here makes you feel like you're standing on top of the world, combine that with the person of your dreams and we're sure you'll never forget this day!


Villa Cristina: Furnished with Antiques and prized Upholstery for a Vintage Wedding!
This converted farmhouse is something very special due to the picturesque landscape with vineyards and olive greens. The villa also has two private pools and a wine cellar where wines are produced and aged. Marriageuana can setup a beautiful outdoor mandap followed by a dinner in the well tended garden of the villa and Catholic weddings can also be celebrated in a beautiful church nearby.


Villa Borgo: For a Luxurious and Gracious Tuscan Retreat that is Grand in Style!
Villa Borgo is the ideal venue for Indian weddings, its elegant rustic styled en-suite bedrooms can accommodate up to 24 guests. This venue will leave your guests immersed in an aristocratic ambiance of weeping willows, fountains and formal gardens!


Borgo Puccini: A breath-taking view of the Mediterranean Sea in a relaxing environment!
Borgo Puccini is a unique estate known for its quality location, healthy living and bohemian hospitality. This villa is surrounded by lush green gardens and also gives a spectacular view of the Mediterranean Sea.


Pienza Villa: Enjoy hiking with your close ones followed by a private wedding affair!
This villa is perfect for an intimate and romantic wedding and best suited for smaller gatherings of about 60 guests. We will help you choose the flowers, the decorations, the food, wines and every other aspect of wedding planning as much or as little as you need, while you enjoy the activities, such as hiking, offered around this space.

Being one of the best wedding planners in Italy, Marriageuana has many other destination wedding venues to choose from. For assistance on destination wedding venues in Italy, contact us now!