If you're planning for a destination wedding in Goa, your search for the best wedding planners, photographers, and decorators in Goa ends here.
It was an absolute pleasure to design a destination wedding in Goa for a client that trusts you and gives you the freedom to implement themes the way you know they'll love!
This destination wedding in Goa was a celebration between two families who didn't have much time to celebrate the couple's engagement and hence, wanted to throw a bash at the wedding.
Ankit and Annie wanted to have a private wedding with only close family members to shower their blessings and cherish their togetherness; most importantly they wanted an enjoyable and entertaining experience for their guests.
This destination wedding comprised of 3-day long celebrations. Sprawling lawns and golden beach front were the perfect venue for this wedding! Beach view and manicured greens - we loved implementing our wedding themes here. Although weddings in Goa on the beach are banned by the government, the resort lawns nearby had all the pros of a beach wedding, providing us with the perfect venue where guests could enjoy photo shoots and romantic scenic views of the sea.
Goa is an all-time favourite beach destination for Indians but since the wedding was planned during the summer it was super-hot and the biggest task for Team Marriageuana was to keep everything summer friendly, cool and colourful. Moreover, the client asked us for unique themes that covered all the traditional aspects of an Indian wedding.
Check out the enchanting environment we executed for Ankit and Annie's destination wedding in Goa!
Day 1: Sufi-Theme Anarkali Cocktail Night
We wanted to start the wedding celebrations with something Royal and what better way to implement that than a Regal Mughal Theme. This theme was a cool tribute to retro glamour with an Anarkali twist inspired by the Mughal era. The guests were impressed with the grandeur and the beauty of the environment.
With Durbaar lamps, Shishas, candles, and jasmine & rose flower setups, all these elements made it perfect for a relaxing Sufi evening. Everyone enjoyed the Anarkali dance performance and live Sufi music with twirling dervishes. It was a perfect start for the wedding in Goa!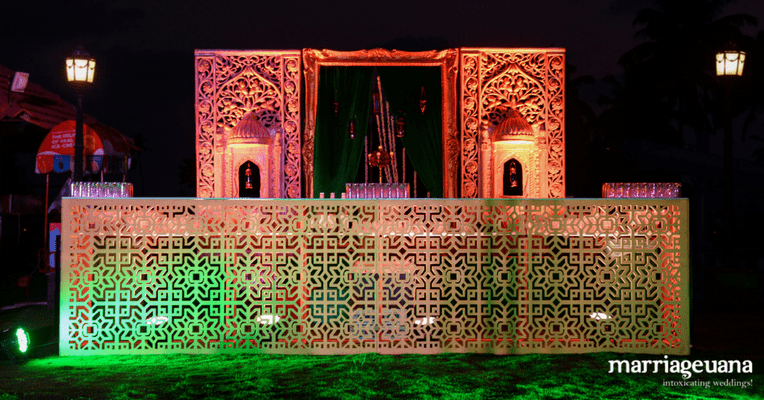 Day 2: Wakhra Swag Mehendi

Mehendi was planned as a day event and we wanted to keep it quirky and easy. The venue was converted into a playful space with colourful tassles, kettles, food stalls, and gota jaalis as decoration.
Gota was used to give a break from the regular flower decorations as they give a blingy touch and it lasts long on hot summer days. The stage, with a kitsch pattern backdrop and marigold flower detailing, created a colourful visual perfect for vibrant photographs.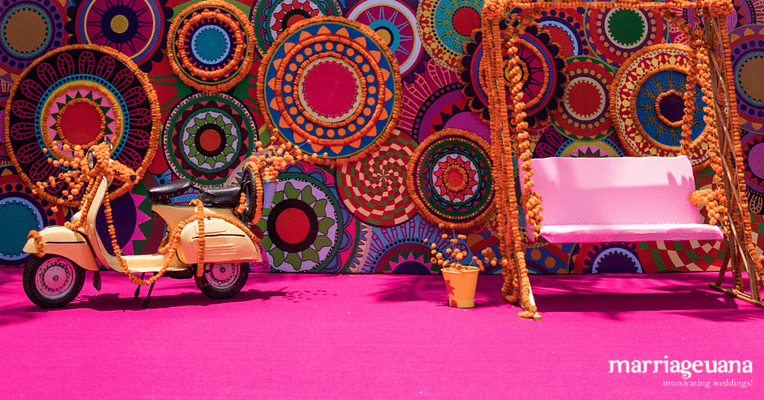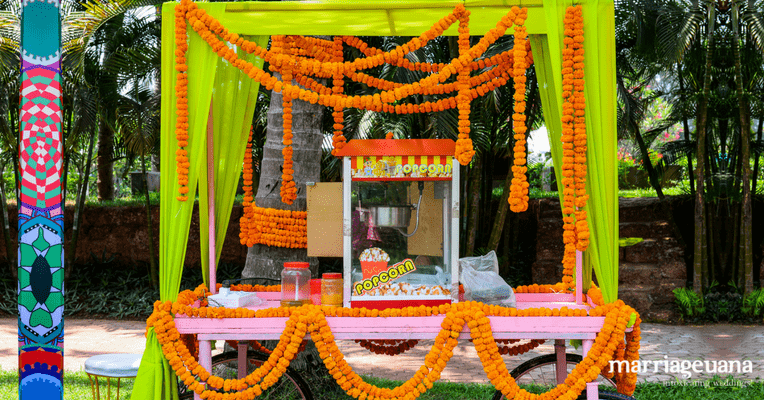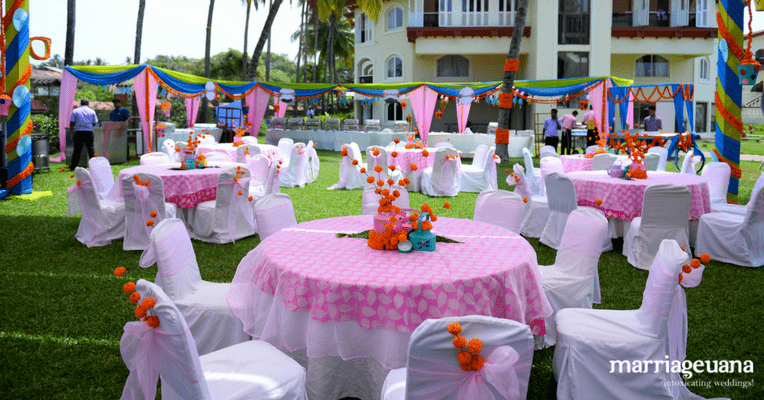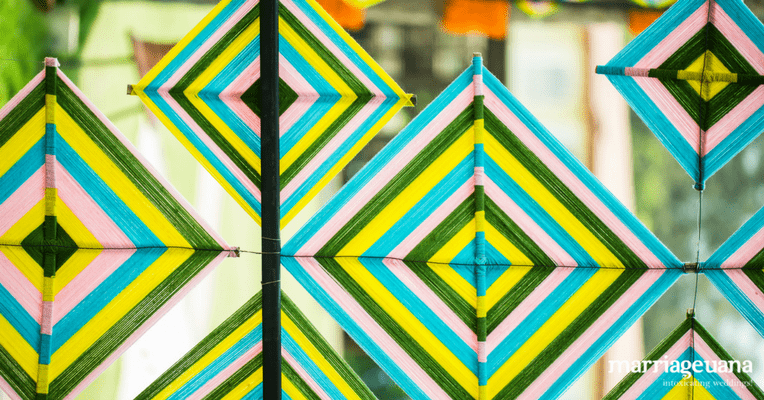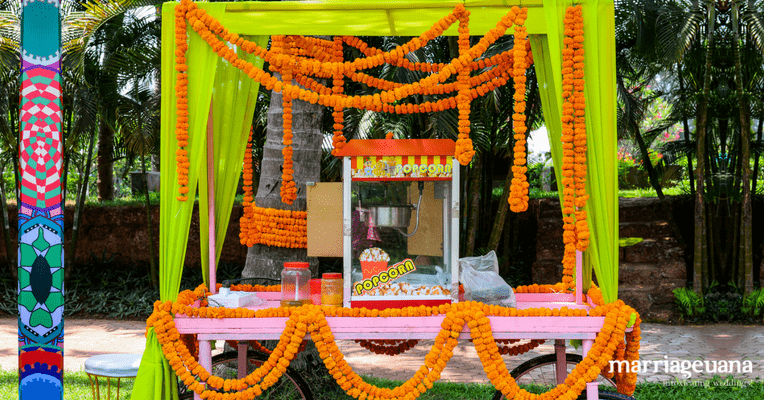 Day 2: Moulin Rouge Sangeet
The Sangeet evening was designed as a modern and classy celebration. At the same time, we wanted to keep a theme that guests from all age group could relate to. And, this Moulin Rouge theme with Eiffel Towers miniatures on tables was loved by all. Black and red colours feathers and props were used in abundance and created an ideal romantic environment.
'Love is in the air' was our approach and using feathers made the environment light, airy, and playful. LED Screen visuals and lights were used to enhance the features of all the elements giving these an extra oomph.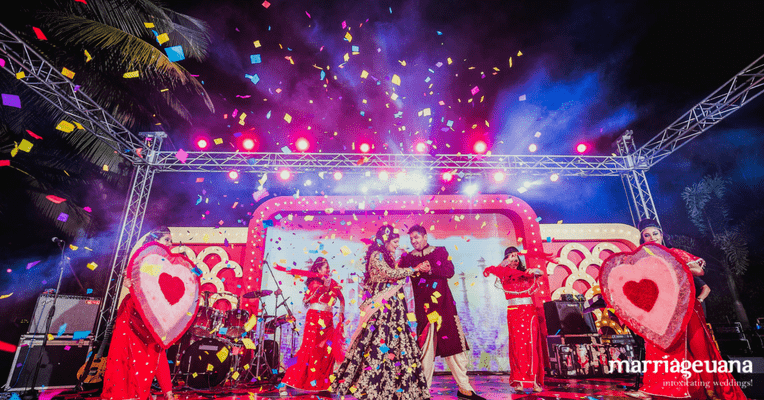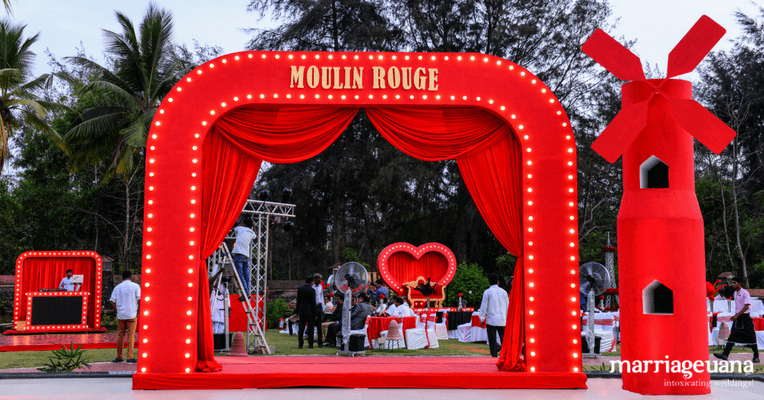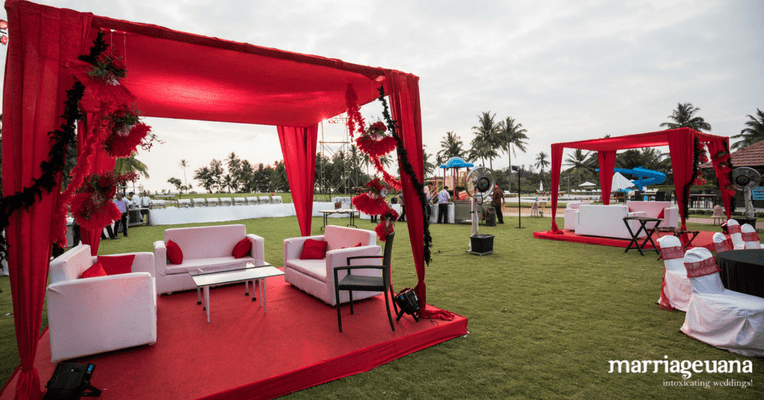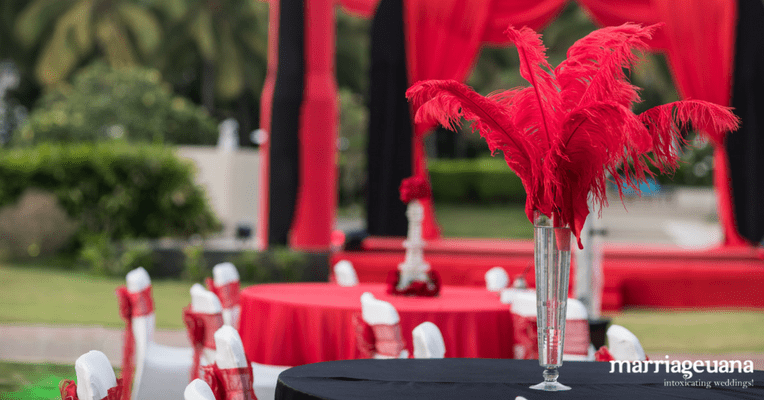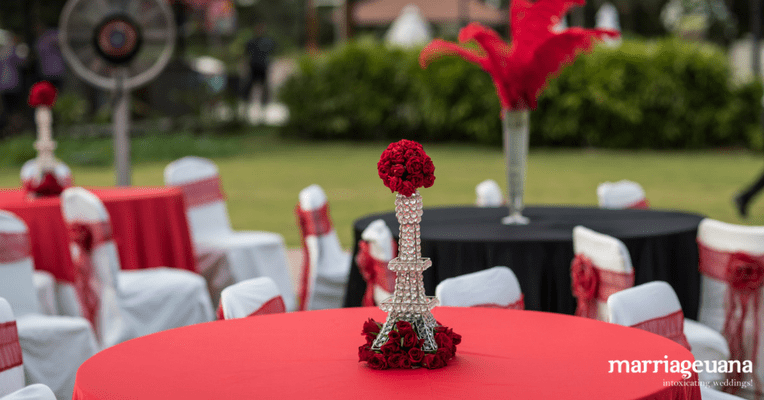 Day 3: White wedding Sea Front Lawn
We recommended the client to have a Christian style wedding with a Ring Exchange ceremony & Bouquet Toss. To gather the best of a beach backdrop which would otherwise be dark in the night. And, they simply lapped up this idea! Flowers, chairs, linen, and carpet, we decided to keep everything white and this looked absolutely stunning during the day with the beautiful beach view. All the guests were given tiaras and hats which helped them beat the heat and added to the Christian wedding theme too.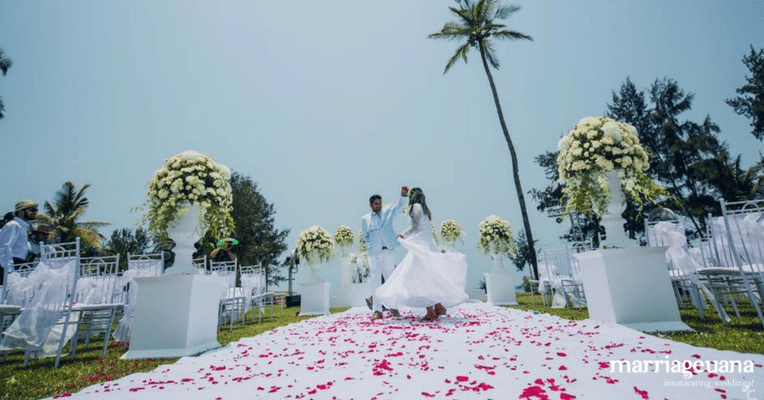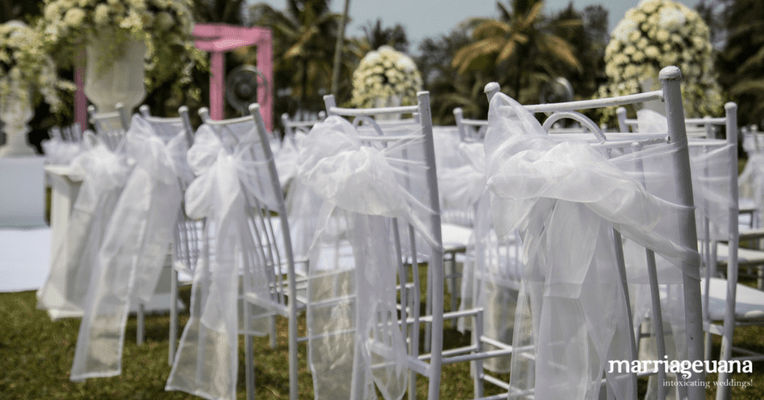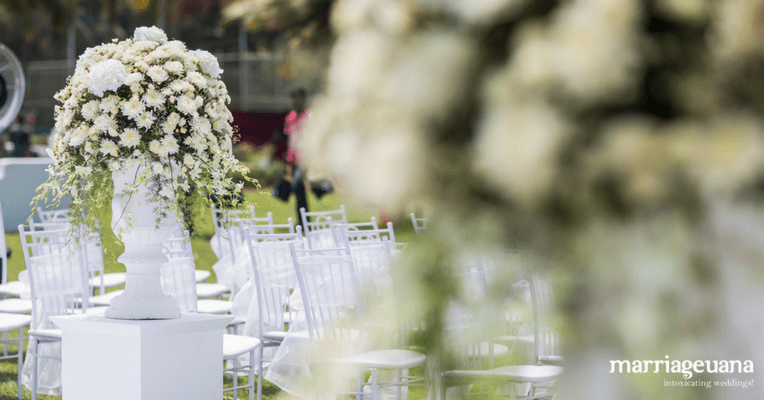 Day 3: Go Goa Carnival Pool Party
A Carnival themed pool party was organised in the afternoon and this helped all cousins and relatives to get closer and have fun by the pool. Lots of paryy games were organised along with Samba dancers to keep up the carnival feel.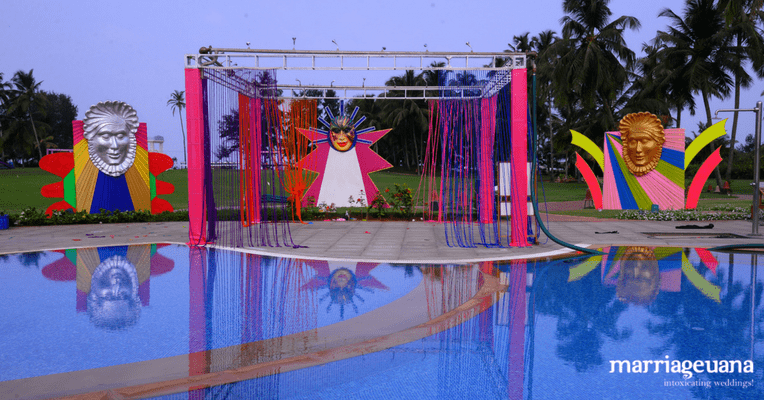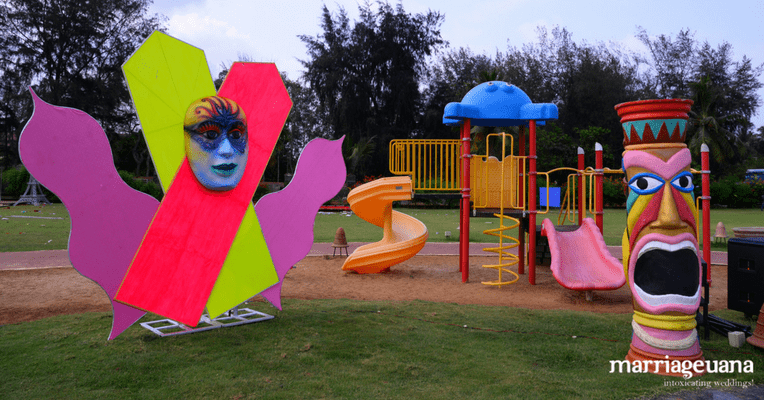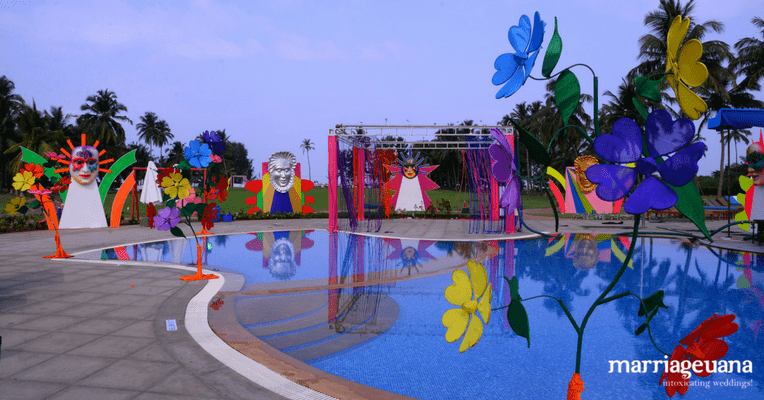 Day 3: Traditional Theme Wedding
We transformed the white wedding decor into a colourful traditional wedding theme, while our guest's partied it up by the pool. The transformation was appreciated by all! Apsaras welcomed the bride in a "heavenly" way and a live flute player provided the perfect musical background for the bride's entrance and at the reception
The entire wedding looked ethereal and out-of-this-world. We had a great time designing these wedding themes for Ankit and Annie- the affair was a perfect example of true love and we are so grateful to have been a part of it.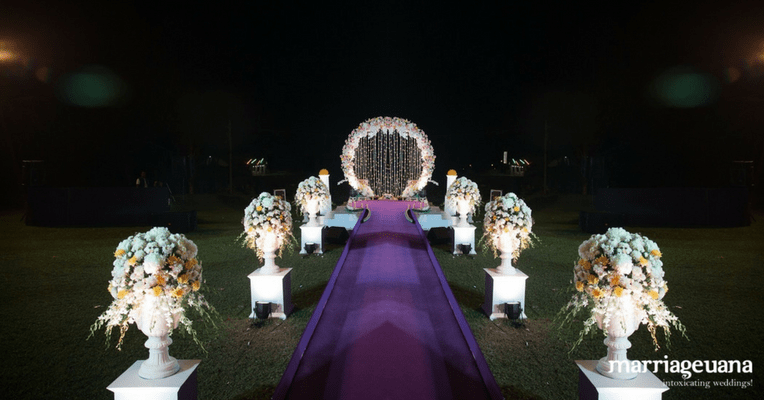 If this wedding inspires you, contact us as we are among the best wedding planners in India for Goa and other destination with a huge team of wedding services, supplies and vendors.
Check out the things to keep in mind while choosing a wedding photographer or contact us for the best wedding decorators and wedding photographers in Goa and all over India!