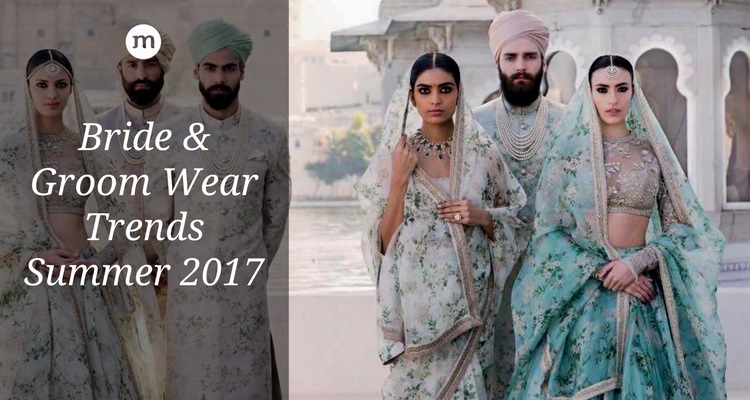 Summer weddings though not the norm in India have recently been picking up. So much so that designers are specifically making Indian bride and groom wear outfits tailored for summer weddings. However, it can get confusing to figure out what to wear and how to accessorize since the majority of outfits are tailor-made for winter weddings with heavy fabrics.
These pictures of Indian bridal dresses are exactly the inspiration you need to put together your wedding outfits so try out these light airy outfits for your upcoming nuptials!
Indian Bride Wear Trends:
Wear White: This is a summer favorite and looks amazing with the warm summer light. It also helps in keeping the sweltering heat at bay. Tarun Tahiliani's summer sarees are gorgeous with ivory sequins and gota embroidery.

Florals are your Friend: Florals are really hard to pull off during a winter wedding. Even though Miranda Priestly may find them uninspiring for spring, they will help lend a fun twist to your outfit and also look super cute! So embrace this opportunity and look out for fun floral prints by Shelha Khan or Anushree Reddy.

Contemporary Wear: A long flowing Indian bridal dress will look great for a mehendi or even an embellished gown for a cocktail event! Especially if your venue has a swimming pool or a water body. Embrace the beach vibe further with fun sunglasses and long earrings to complete the look.

Keep Makeup to a Minimum: Sweating off your makeup is never a good look and soft pastel shades will keep you looking dewy fresh throughout the day. Bonus point- you don't have to worry about touch ups as much!

Have Fun with Colors: Whether a touch of candy color in your outfit or even in the décor, bright happy colors look great on a summer evening and will help bring an extra pop of happiness to your big day!

Avoid Heavy Gold: In your outfit and jewelry, gold should be avoided during the summer months. Instead, opt for pearls or diamonds to give a fresh airy look that compliments your light outfits.

Indian Groom Wear Trends:
Here're some references from top Indian groom wedding dress designers, go ahead and choose the one that matches your personality!
Substitute with Short Kurtas: There is no need to wear a sherwani when the weather is touching 45 degrees. Opt for shorter length kurtas or jackets, which look equally stylish and keep you comfortable.

Let go of Heavy Embroidery: Groom outfits tend to be very heavily embellished. Go for light embroidery and jazz up your outfit with a string of pearls or a dark turban.

Choose Materials Wisely: Silk should be avoided and go for breathable materials such as cotton.

Rajasthani Turbans: Many grooms who wear turbans often end up feeling hot even during the winter months. Rajasthani turbans are made from lighter materials and also come in an array of fun colors!

If you find these designers way to expensive then you can rent Indian bridal wear online. Make sure you checkout our other blogs and plan your summer wedding wisely!