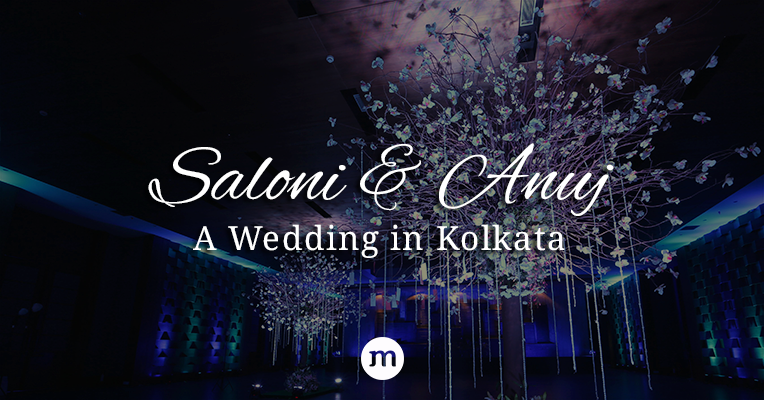 For those who are planning a wedding this year, our "What to Expect" section will help you with inspiration from real weddings planned & executed by us.
To make a traditional wedding pleasurable and not burdensome, marriageuana planned Saloni & Anuj's wedding in Kolkata and its events with their vision in mind. A fusion of a modern Indian wedding with traditional yet fun celebrations was well highlighted at this union between the two families; the bride hailing from Gujrat and the Groom based in Kolkata gave us the perfect opportunity to pick up the best from both cultures. And, to capture this whole event we hired one of the best wedding photographers in Kolkata and he definitely did justice to it.
The venue, Vedic Village in Kolkata provided a majestic backdrop and with the cinematic imagination of our founder, Pramod Lunawat, all the wedding events had different themes and were executed to perfection.
Welcoming:
Weddings don't just revolve around the bride and groom, but everyone from both the families. Moreover, if it's a destination wedding- it's important that your guests love it and therefore, a high power start is required and that is exactly what we planned for this wedding.
Guests were welcomed by Ghoomer dancers followed by a traditional aarti tika ceremony. It's part of our job to make sure that they have a great time at the wedding and also a pleasant stay so we managed the entire hospitality to make the entire wedding go smoothly!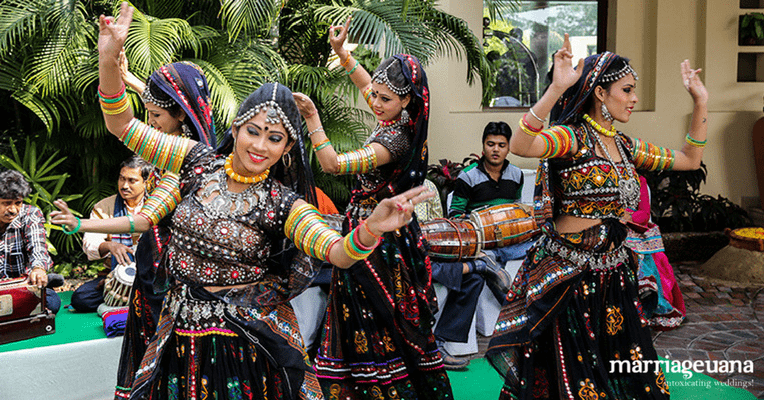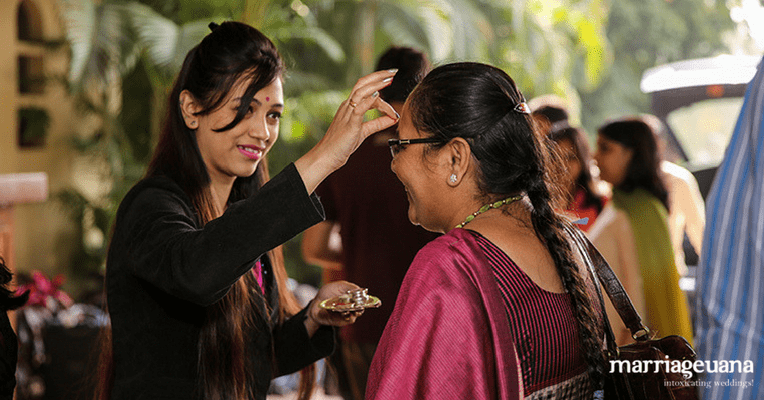 Fun Activity:
Weddings can get boring too as guests usually come, sit, eat, and leave but planning a fun activity day can add excitement to a traditional affair and prove as a great icebreaker between two families.
In this wedding, box cricket "Band Baaja Baarat Cricket Leauge" was organised between the bride and groom side with customised t-shirts - orange for the bride's team and green for the groom's which were monogrammed with the bride and groom's name. Summo wrestling on a Trampoline, Box arena, Paintball shooting, Inflatable bouncies for kids were also part of the fun activity day.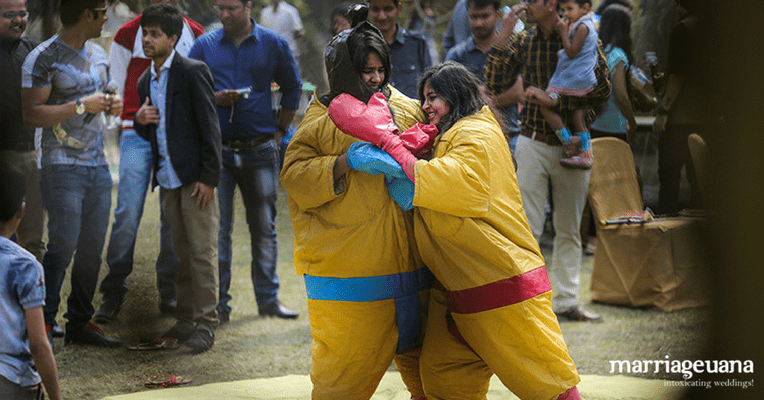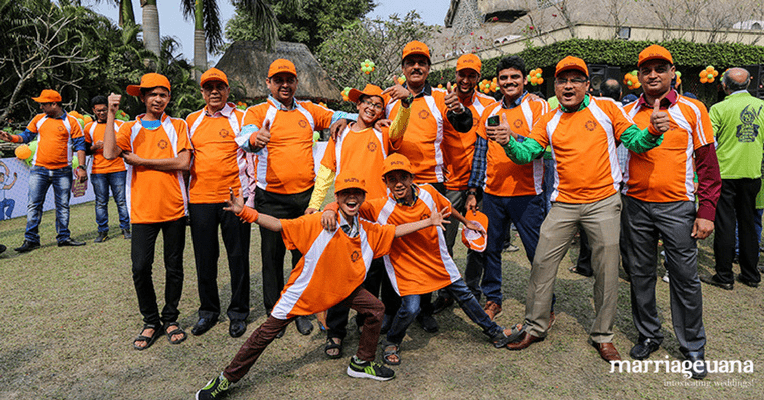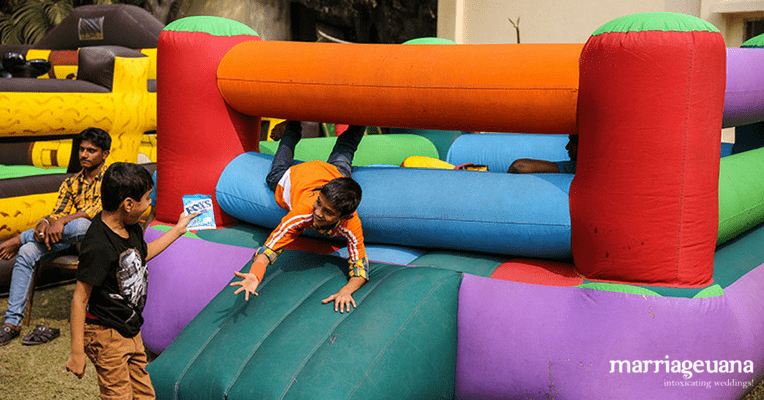 Mehendi:
To celebrate the start of the wedding festivities, mainly the close family & friends are involved and it is important to make the environment homely and casual. That's exactly what we implemented in this function by using bright coloured fabrics and decor. We set up a backyard zone with various activities including astrologer, parrot card reader, antaksharee and various giveaways to bring in the festive flair to the celebration. We kept it classic and traditional with marigolds as the primary decor element. The main highlight of this event was the huge food truck which added an extra fun to the celebrations.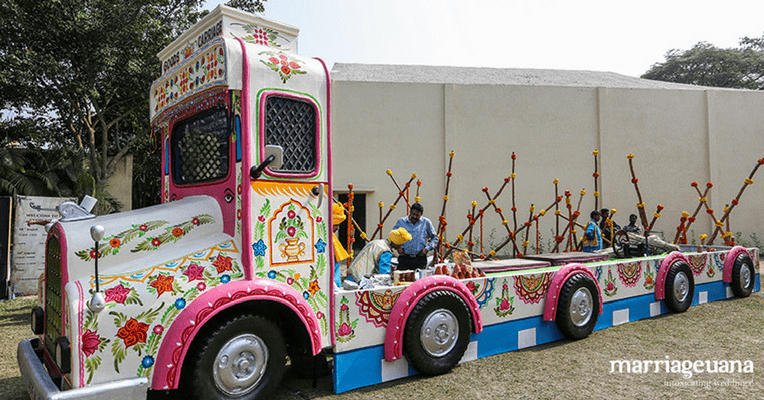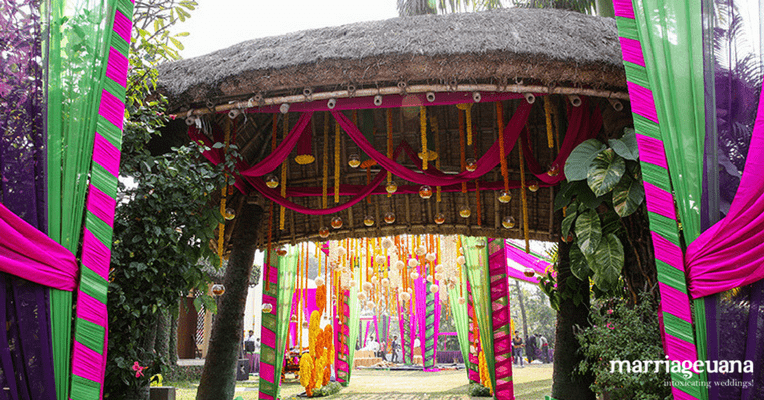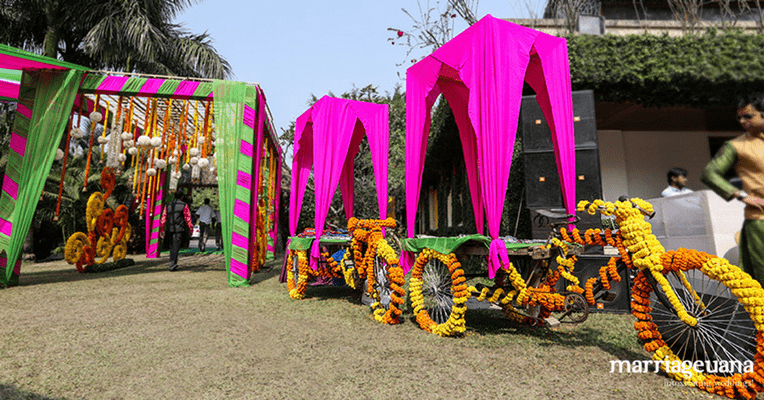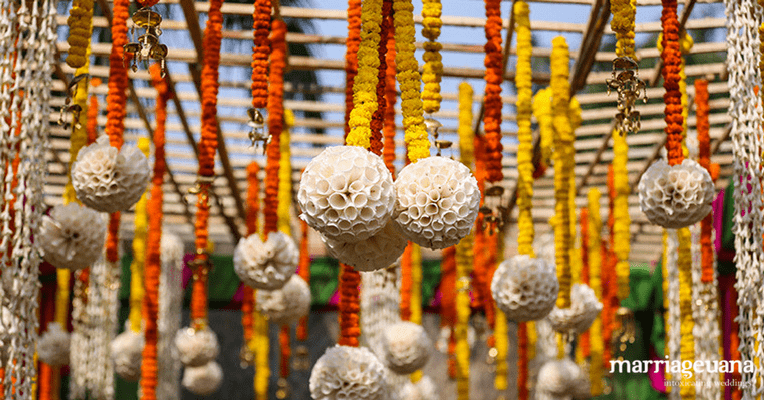 Sangeet: Planning Indoor wedding functions require more creativity and much more work to make it look elegant and spacious. This Sangeet ceremony was all about exclusivity and opulence and so the theme of this event highlighted! Everything was kept very subtle with beautiful lighting and faux floral trees were the main highlight of the decor and guests enjoyed getting their pictures clicked besides them.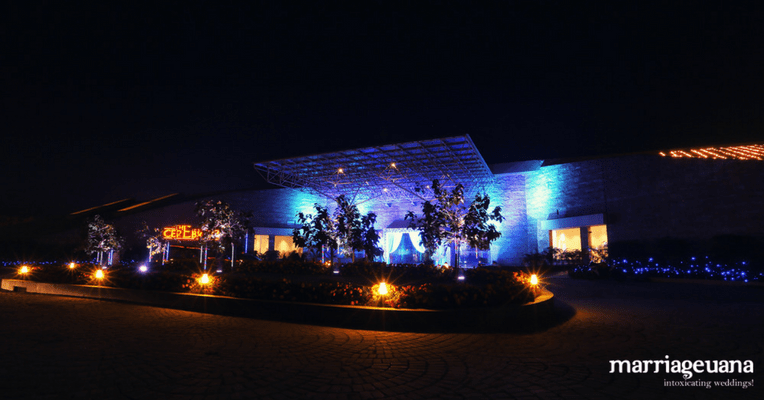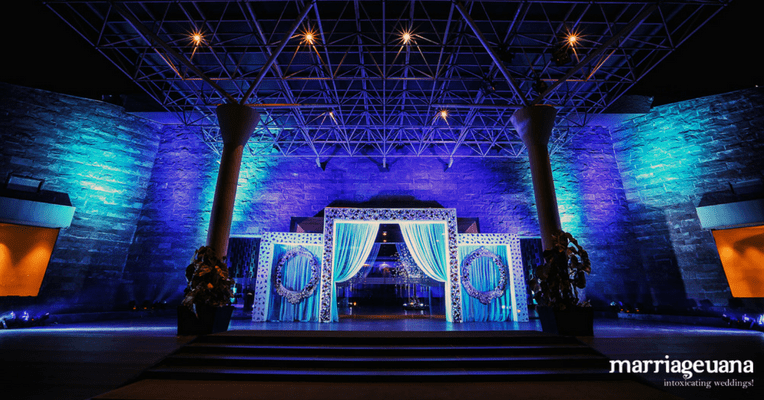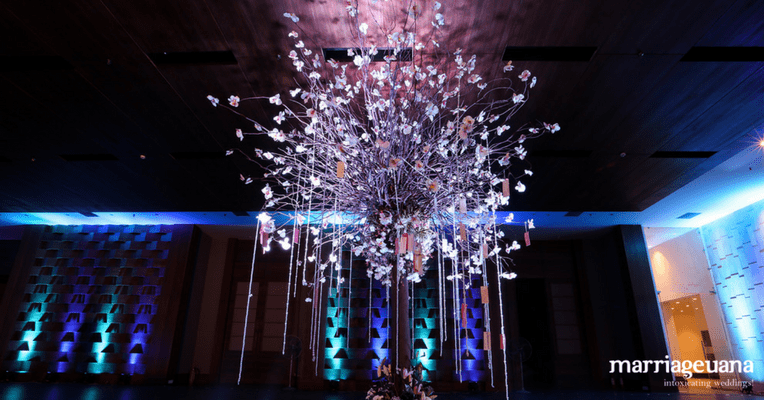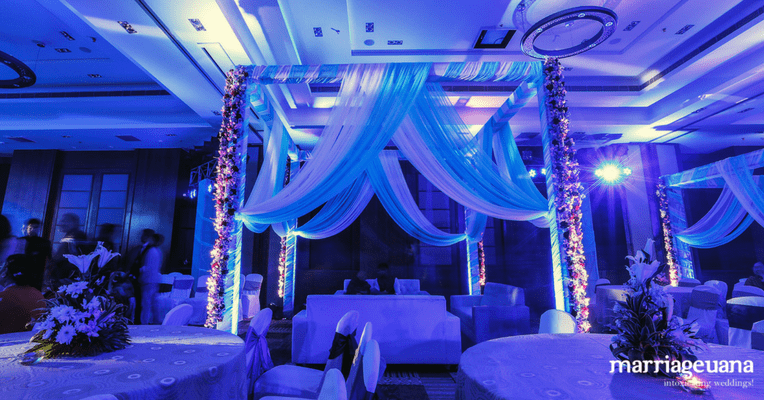 Check out our list of best Sangeet Songs 2017 and add a punch of entertainment to your Sangeet night.
Wedding- Theme Ushering of Princess:
Two things that guests really loved at this wedding in Kolkata - Live music by The Symphony Band and the beautiful floral decor with the mogra chandelier stage where the couple exchanged varmalas. Also, the mandap was beautifully designed keeping the traditions in consideration. Big Indian weddings demand elegance with a huge dose of entertainment and this wedding had plenty of both!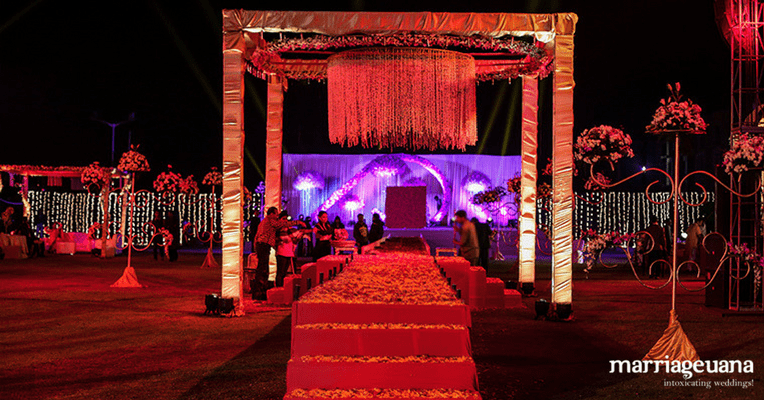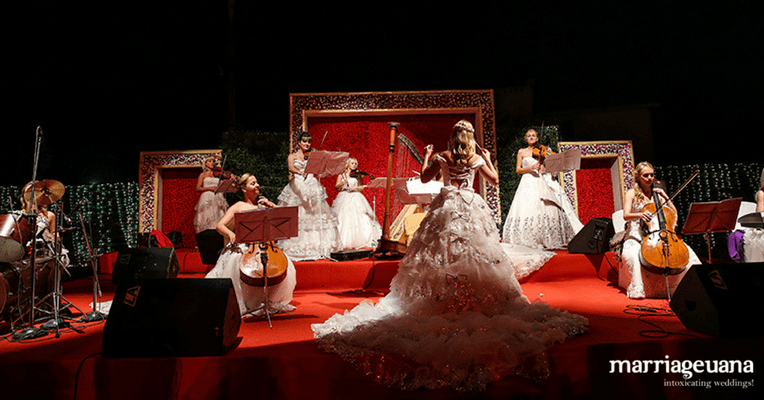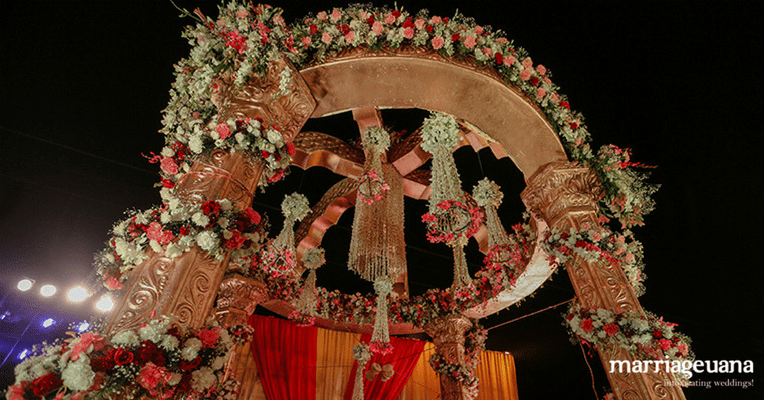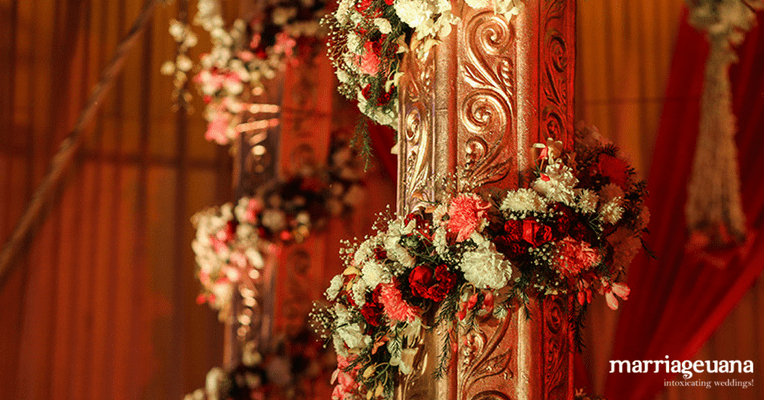 We create nuptial bliss full of fun and an affair that will be remembered by you and your family for years! Get in touch with Marriageuana, the best wedding planner in Kolkata and let us plan your day your way with the best of wedding caterers & photographers in Kolkata!
In case you're looking for isolated and calm destination wedding locations in India, check out the list here.