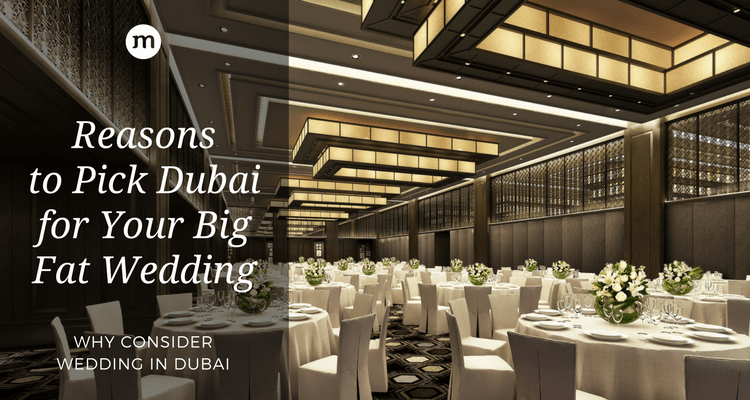 Dubai is now also becoming an increasingly popular destination for Indian weddings as it has everything that one can desire for luxurious wedding celebrations. With a plethora of entertainment options, Dubai is a tiny world in itself and there's a ton to keep your guests busy and entertained.
Dubai with its unique Arabic charm, traditional old world heritage and modern vibrancy, makes it an incredible venue for a wedding experience. If you've never thought about a destination wedding in Dubai, here are some reasons to consider.
From Ballrooms to Beaches to Deserts to Gardens!
Mostly all destination weddings in Dubai are organized in hotel ballrooms due to its strict alcohol licensing laws. You can also consider a beach wedding with exceptional views of the Dubai skyline, Arabian Sea and seascape. With picturesque sand dunes as the backdrop, desert wedding can also be considered between October-May.

Fantastic winter weather!
Beach and desert weddings in Dubai can be too harsh during summers. Dubai's weather is cooler in the months from October to May and these months are perfect for outdoor wedding celebrations. Therefore, if you're planning to get married in the winter this year, you must consider Dubai as one of the location for your wedding.

One of the world's best airlines and airports!
Emirates is the largest airline in the Middle East that flies to more than 133 cities in 74 countries across 6 continents. Apart from this, there are many other airlines connected all over the world. So if you have international guests attending your wedding in Dubai, costs for tickets will remain well within your budget.

Shop till you Drop!
Dubai is the shopping capital of the Middle East and malls in Dubai are prime destination to beat the heat and make the most out of your free day. The annual Dubai Shopping Festival attracts millions of people each year. Luxury brands, mega sales, and high end gourmet restaurant are definitely a shopper's stops!

Great Beaches!
Dubai has a long stretch of coastline with beautiful beaches, most of which are open to the public so while your wedding planner is working on your wedding venue in Dubai and other arrangements, go ahead and take a dip! A wedding on the Dubai beaches is also a great option to consider.

World's Tallest Building!
Burj Khalifa at 830m is the tallest man-made structure in the world. Take your partner to the top observation deck and experience the stunning views across the Dubai cityscape.

Vibrant Nightlife!
Dubai has an array of nightclubs for every taste in music, theatres, circus acts and shows. And with so many dining options, enjoy local food to add cultural experience to your wedding.

Safe Place to Hang Out!
Dubai is an extremely safe place to visit and has low crime rate. You can take a walk around the city at any time without unwanted harassment.

Arrange your Wedding According to Your Beliefs!
Whether you're a Sikh, Hindu, Muslim or a Christian, Dubai is tolerant of all religions and has many mosques, temples and churches where you can have a religious marriage of your choice.


Picture credits: Into Candid Photogrpahy

Adventure of the Dubai Desert!
A destination wedding cannot be completed without exploring the destination itself. So enjoy spectacular scenery and thrilling activities, dune bashing being one of them. Wedding guests will also enjoy camel riding, belly dance performances and falconry displays followed by a traditional Bedouin meal.

Get hitched in the vastness of the desert, it's a romance that you will carry for an eternity!

If you're convinced enough and planning a destination wedding in Dubai, contact us now!