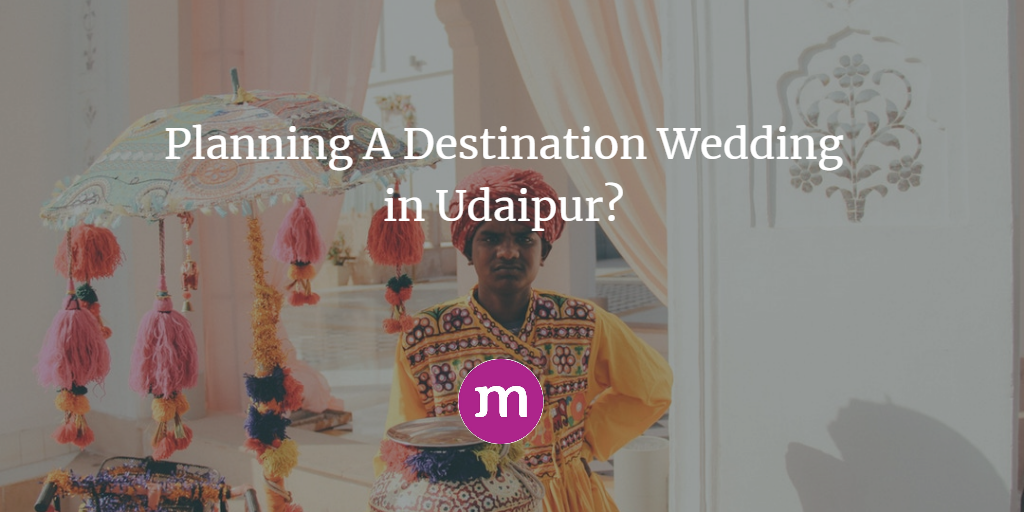 Irrespective of the nationality, marriage is one such event that is celebrated with great pomp and show across the world. Be it a guest list or decoration of the venue; nobody wants to leave any stone unturned when it comes to making this day a mesmerizing one.
Having said that, the latest trends and vogues commencing in the wedding industry are compelling couples to organize their D-days in a unique and peculiar style. One of the major trends that are doing the rounds is the destination wedding.
Far away from your native place, when you take vows with your beloved in an alluring destination, the feeling is surely going to be heart-warming, don't you think so? Talking about India, this country has to offer some of the amazing cities as well, Udaipur being one of them. Let's check why destination wedding in Udaipur is a good decision.
Favorite of all and disliked by none, if you're considering to have a destination wedding, here are some convincing reasons for why Udaipur should be your choice.
1. City Bursting with Romance:
With several lakefront settings, magnificent sunset views, natural vibes, and stunning historical architecture, Udaipur is a kind of destination couples dream about. To add more to your delight, it has been ranked as the most romantic city in the country.
So, if you're ready to be beside your beloved till the end of eternity what better would be a place than this romantic city? Along with hosting a royal wedding, you can even have your mini honeymoon, trying to explore the history of India.
2. Dazzling Weather:
One thing that localities boast about is the gorgeous weather that this city has. Neither summers are too hot, nor winters would be chilling you out. And, when talking about monsoons, Udaipur turns out to be nothing less than a surreal place during this season.
Considering how the weather is almost favorable throughout the year, planning a wedding any time wouldn't be a hassle for you. Unlike other cities of Rajasthan, Udaipur offers consistent and pleasant weather.
3. Surrounded by Tranquil Water:
If you're more of a lake person, what would be dreamier than holding the hands of your beloved in the center of a lake and promising never to let it go? The moment is going to be surely incredible and cherishing, right?
Calm lakes and tranquil water in the Udaipur city can rejuvenate your senses for good. For a groom, entering the venue on a boat can be quite a unique arrival. And then, you can even organize boat time for your guests so that they can relish memorable moments.
4. Luxurious Hotels:
Udaipur is a hub of luxurious hotels that can be ideal for both high-end and budgeted weddings. Not just that, but there are specific venues that have been recognized across the world, like The Oberoi Udaivilas, The Leela Palace, and more.
These two hotels have even made their place in the list of top 100 hotels in the world. If you have a wedding planner in Udaipur, things can become quite easier for you. They can effortlessly sort out better accommodation and venues for you.
Furthermore, if you wish to adore the lakeside beauty from your hotel room, you can choose the Taj Lake Palace or the Jagmandir Island Palace.
5. Majestic Past of the City:
The majestically rich past of Udaipur is a unanimous fact. Even after several decades, this land of kings and queens still radiates the similar glamour of the past. An abundance of properties and palaces have been transformed into hotels that are superb to organize a wedding.
Thus, this would be another significant reason that should persuade you to organize a destination wedding in Udaipur. With your queen by your side, tying in the bond of love, your wedding will surely look like a royal affair.
6. Scrumptious Local Food:
At any wedding, food is a complete celebration in its own. If you've managed to serve delectable food at your marriage, not just it'll impress your guests but will also leave a long-lasting impression altogether. With a fair share of spices and sweetness, Rajasthani cuisine can definitely blow your mind with delicious flavors and amazing presentations.
Regardless of your requirements, arrangements can be made for mouth-watering delicacies. So, keeping local food items can assuredly enhance the day for you.
7. Considered by Celebrities:
Udaipur, not just famous among tourists, but is also a go-to place for celebrities when it comes to weddings. The latest affair of business tycoon Mukesh Ambani's daughter's wedding isn't concealed from anyone in the world.
Apart from that, there are several Indian celebrities who have chosen Udaipur as their wedding destination, like Neil Nitin Mukesh, Raveena Tandon, and more.
Conclusion:
A rich and magnanimously beautiful city that Udaipur is, it has something for everyone. Whether you want a massive wedding ceremony or a simple and stylish one, Udaipur can help you create life-long memories effortlessly.