Spain
Destination Wedding in Spain
Spain has strong ethos with the wedding chimes and furnishes the most romantic backdrops that accompany you with spectacular locations, sceneries, castles, beaches and so on. Marriageuana feels over the moon to become a part of your celebrations!
The pleasant Mediterranean weather and the stunning panoramic views of the sea and the countryside combine to create one of the best holiday destinations in the world – Spain. Elevate your holiday experience to the next level and host your wedding at one of the most spectacular wedding venues in Spain for memories that will last a lifetime! Right from your pre-wedding shenanigans to the honeymoon, Spain is the country to celebrate the beginning of the rest of your life with your partner.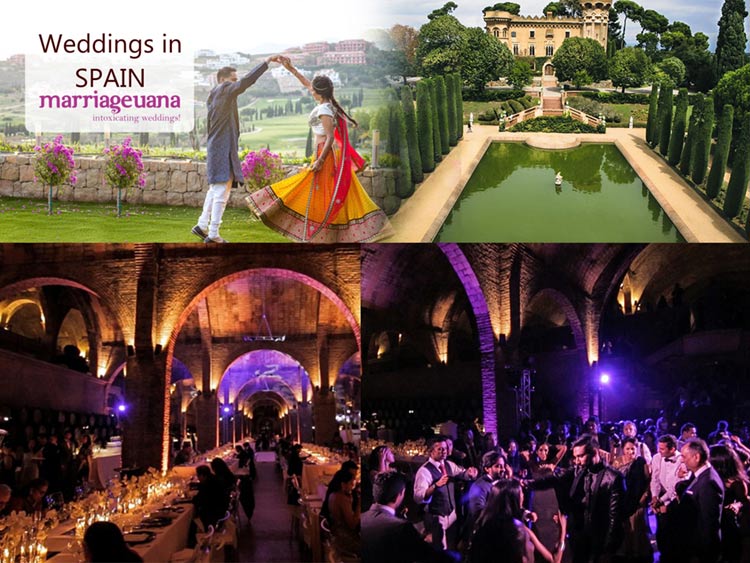 FAQs:
1. What are the most popular wedding venues in Spain?
Here are some sensational locations that you must take note are: Mallaui, Can Ribas de Montbui, El Mas Groc, Sunset Beach Club, Don Carlos Leisure Resort & Spa, La Cala Resort, Can Morato, Los Monteros Spa & Golf Resort, Castle of El Papiol, Atzaro Agroturismo, Casa Felix.
2. What's the best time to get married in Spain?
Get married in September and October as these months offer perfect romantic climate. Other than this, May, June, July and August are the busiest and preferred time to get married here.