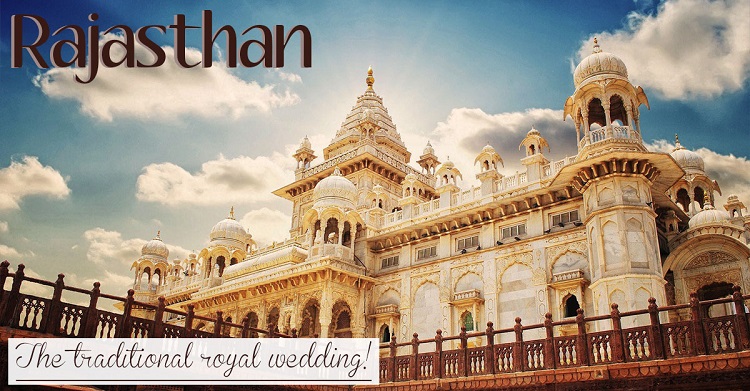 For those planning a lavish and luxurious wedding, Rajasthan is a tantalizing wedding destination that adds charisma and royalty. It is a state of splendid colorful culture full of mesmerizing music, delightful cuisines, and unmatchable wow worthy dances. Weddings arranged here have a princely touch as most of them are held in heritage forts reflecting the age old royal charm. Adding the performance of Rajasthan's folk dance, Ghoomar and its folk music on the wedding day surely makes the atmosphere very lively and joyous.
The royal land of Rajasthan is the most admired place for wedding and if you want to have a royal, colorful yet a modern destination with picturesque view, Rajasthan is the perfect wedding destination. Jaipur, Jodhpur and Udaipur have luxurious heritage palaces which enable an elegant and princely wedding.
Check out these magnificent locations we have shortlisted for you:
Umaid Bhawan Palace of Jodhpur is situated at the highest point on Chittar hill. This golden hued desert sandstone monument offers its lavish gardens and the grand Marwar hall for wedding ceremonies.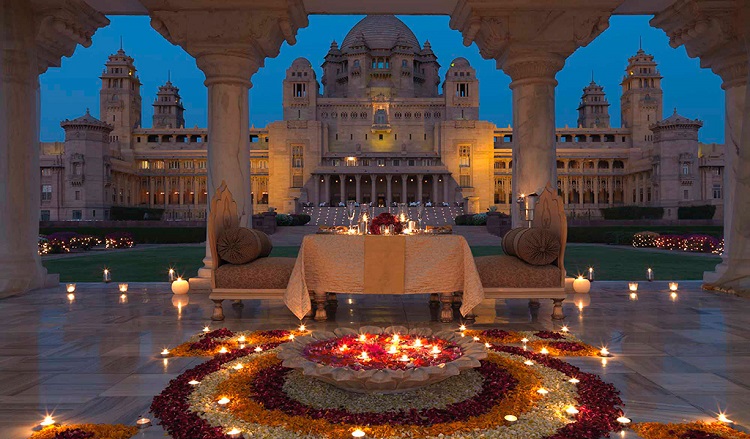 Weddings at Umaid Bhawan Palace, Jodhpur
Jai Mahal palace in Jaipur is a luxury heritage hotel equipped with modern day comforts that offers unbeatable views and lush green gardens. The palace gives a princely touch to your wedding with it splendid architecture.

Weddings at Jai Mahal Palace, Jaipur
The country's first palace hotel Rambagh palace in Jaipur is a blend of Rajput and Mughal architecture that adds royalty to the venue. It's a perfect venue for a royal and romantic wedding affair.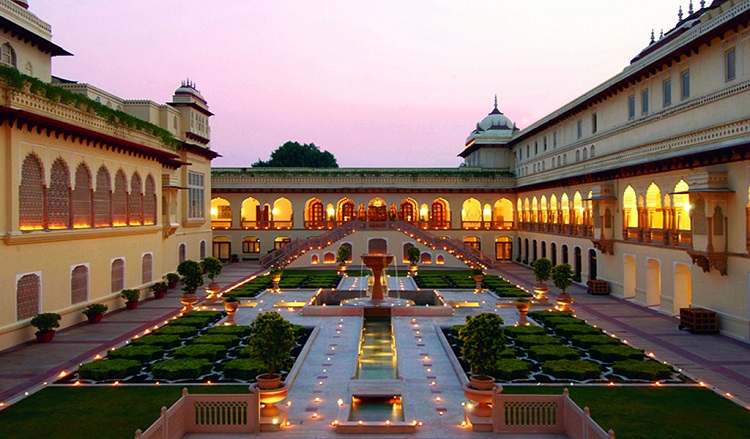 Weddings at Rambagh Palace, Jaipur
Neemrana fort is country's oldest fort and is perched atop a hill, it is another royal destination to have your wedding arranged at. It is easily accessible from both Delhi & Jaipur. The fort when bedecked with flowers and lights creates a magical ambience. This vibrant site is apt for couples who want to have their ceremonies away from the city noise but with a touch of royalty.

Weddings at Neemarana Fort
These palaces of the Pink city Jaipur, cater to your desire for luxury destination wedding in India. Marriageuana has been arranging weddings at this royal state and helping couples make life long memories.
For destination weddings in Jaipur costs, contact us or drop your queries at help@marriageuana.com, pramod@marriageuana.com or 9830049050, 919874166711.