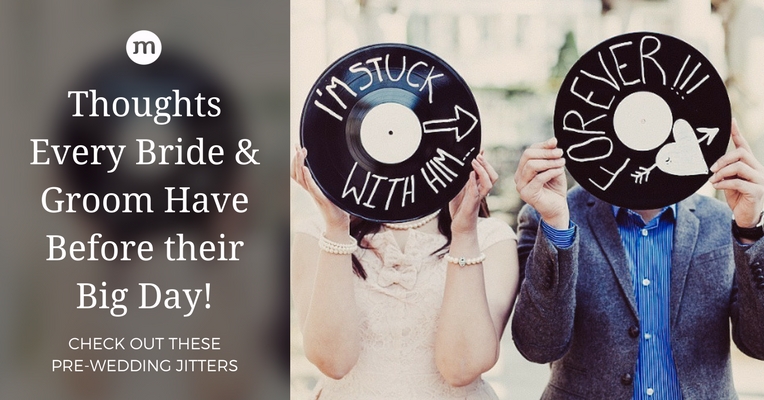 A wedding can bring a million thoughts and a billion emotions for both the bride and the groom. Between the smiling, greeting, planning and socialising there's a flood of weird and scary thoughts running through their minds.
After the wedding date is finalized, you may get a lot of mood swings; happy, sad, feeling sick, and having bad dreams and you may feel that you made a mistake by saying "yes"!? These are common pre-wedding jitters that almost every man and woman come across before their wedding day.
While working with clients and providing them wedding planning advices, we came across many brides and grooms who constantly had pre-wedding jitters. Here's a list of weird and funny thoughts that might come to your mind before your wedding day, with a fun twist to help you calm down.
Oh, I have to hug another annoying relative now!

If you have planned a grand wedding then the guest count is definitely high. Having the entire family together from both the bride and the groom's side, either estranged or the most talkative family members, you become a magnet that attracts hugs from everyone at the wedding! Buckle up, because this is a torture you just can't avoid.


My cheeks hurt, but I just can't stop smiling!

When the cards are all distributed, relatives have started coming in; all eyes are on you. This is the time when your happiness over flows, you feel like a celebrity and can't stop blushing!


God that chocolate cake looks amazing! This healthy diet better be worth it.

Getting into shape is definitely on top of the bride's wedding planning checklist. If you're a foodie then all those yummy dishes might be bothering you. How long will you have to resist eating an extra cheesy burger, just to make sure you fit into your wedding dress? It can get really hard with relatives passing around sweets all the time, but hang in there!


Wondering what my fiancé would be doing at his bachelors!

We've all had that nightmare of a hot woman seducing our fiancé at their bachelor party? Now, you might get angry at his friends and cousins who want to celebrate your partner's last night as a bachelor, but keep in mind that the party is more for those not getting married than the one who is.


Honestly can't imagine our first night together!

You have been hearing so many dos and don'ts from friends and cousins that when the wedding night is close to arriving you start recalling their funny advices and experiences. Now, talk openly with your partner and devise the plan for your first night, both of you will probably be way too tired at the end of a long day, so it's nice to know what to expect.


How will I cope with a new family!

You think of how your new family will be and how to keep up with them. If you have doubts about your new family and how you will manage with them, here's some wedding planning advice; make sure that you and your fiancé have a strong and open communication channel so that you can prepare your mind in advance for all those post wedding surprises. It's also a good idea to spend some time with them during the wedding planning.


Who cares about the wedding, I'm waiting for my honeymoon!

Honeymoon may not be in your wedding planning schedule but you might be thinking about beaches, alcohol, bikini tops, alone time, adventure and romantic locations. Brides & Grooms both are waiting to get over their wedding celebrations and fly off for their romantic vacations and that's completely normal.


When will this waiter serve me!

Sitting on the stage and looking at the waiters serving your guests but not you can be really difficult, especially since you have to smile away while you're actually starving. You may start counting the bucks you spent for that luxury catering, waiting for those kebabs to get served, but a good idea would be to plan ahead and tip a few waiters before the function actually starts.
We advise you to discuss all your jitters with your closest friend or a family member so that your anxiety is relieved by beginning the conversation. But if you're at a stage of some serious pre wedding jitters trying to break your wedding, you should seek professional wedding planning advice, consult a wedding counsellor and plan your wedding with excitement and joy!
If you're planning a wedding, checkout our wedding planning blogs & download our wedding planning checklist & printable that will make your wedding flow with ease!